Art in Wood: Philadelphia's American Craft Council Fellows
October 30, 2015 – January 16, 2016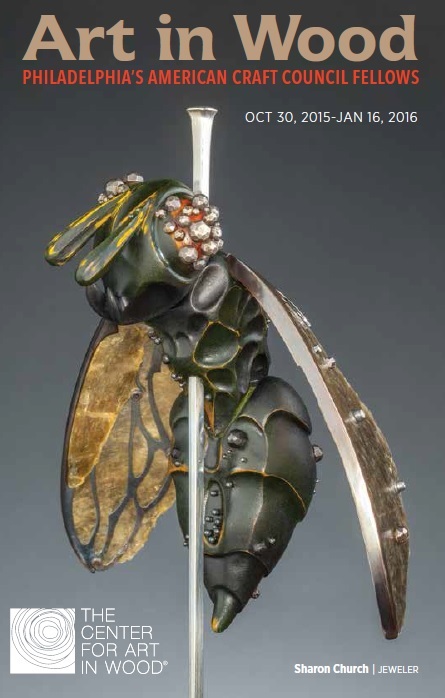 As The Center for Art in Wood
approaches its 30th anniversary in 2016, the organization presents a major exhibition in the Gerry Lenfest Gallery of the Philadelphia
American Craft Council
(ACC) Fellows who work in wood and wood in combination with other materials. The Fellows include furniture makers
Michael Hurwitz
and the late
George Nakashima
, wood turner
David Ellsworth
, and jewelers
Sharon Church
and
Bruce Metcalf
. Concurrent with
Art in Wood
the Center will display a selection of portrait photographs of studio craft artists and designers working in wood by Paul J. Smith, Director Emeritus of the Museum of Arts and Design. An ACC Honorary Fellow, Smith was awarded the ACC's 2009 Aileen Osborn Webb Award for Philanthropy in recognition of his contributions to the craft field.
Highlighted in the Museum Store:
Emerging artists
Meghan Ayers
(jeweler) and
Derek Weidman
(wood turner)
Exhibition Events:
Meet the Fellows Opening Reception
| Fri, Oct 30, 2015 | 6 – 8 PM
Annual Founders' Fundraising Event
| Saturday, November 14, 2015, 6 – 8 pm Fellows and Portraits book signing | 6 – 6:30 pm | Ticket purchase required (clink link for tickets) 
First Fridays
| Nov 6 and Dec 4, 2015 | 5 – 8 PM
Exhibition and associated programs are generously supported by the Cambium Circle members of The Center for Art in Wood, The Bresler Family Foundation, Pennsylvania Council on the Arts, Philadelphia Cultural Fund, Samuel S. Fels Foundation, Penn State Industries, Signarama, and Windgate Foundation. 
Art in Wood is part of Masters of Craft: American Craft Council Fellows in Philadelphia.  A collaborative presentation of exhibitions and installations across Philadelphia, Masters of Craft is of the highest quality of interdisciplinary American craft art in one place at one time in the world. The Philadelphia Museum of Art, the Philadelphia Art Alliance, the Clay Studio and The Center for Art in Wood honor 14 American Craft Council Fellows from Philadelphia who have had an enduring national impact through their works in wood, clay, fiber, metal and glass.  Masters of Craft is the uniting programming vision for the new Craft NOW Philadelphia initiative, which also includes events, demonstrations, and education programs at these institutions and others, staged primarily from November 12-15.  Masters of Craft is generously funded by the Windgate Foundation.
Craft NOW Philadelphia was founded in 2014 by a consortium of individuals, galleries, museums, universities, retailers and civic organizations. Though diverse in background, the consortium was united in their desire to create an initiative that would contextualize the future of craft in Philadelphia. With its inaugural events in 2015, Craft NOW Philadelphia begins its mission to showcase the city's craft community and create opportunities for the public to engage directly with the art of craft.
https://youtu.be/dJQId3S4Kfs
Craft NOW brings together four landmark exhibitions. The Philadelphia Museum of Art, the Philadelphia Art Alliance, The Clay Studio and The Center for Art in Wood honor 14 American Craft Council Fellows from Philadelphia who have had an enduring national impact through their works in wood, clay, fiber, metal, and glass. Masters of Craft is documented, in its entirety, with a 160-page publication, including essays, artist profiles, and a full-color catalog of the included works. To purchase your hard copy today visit The Center's online store. You can also view the catalog free of charge online. View Catalog >