Tom Loeser: Please Please Please
February 12 — July 24, 2021
Curator: Glenn Adamson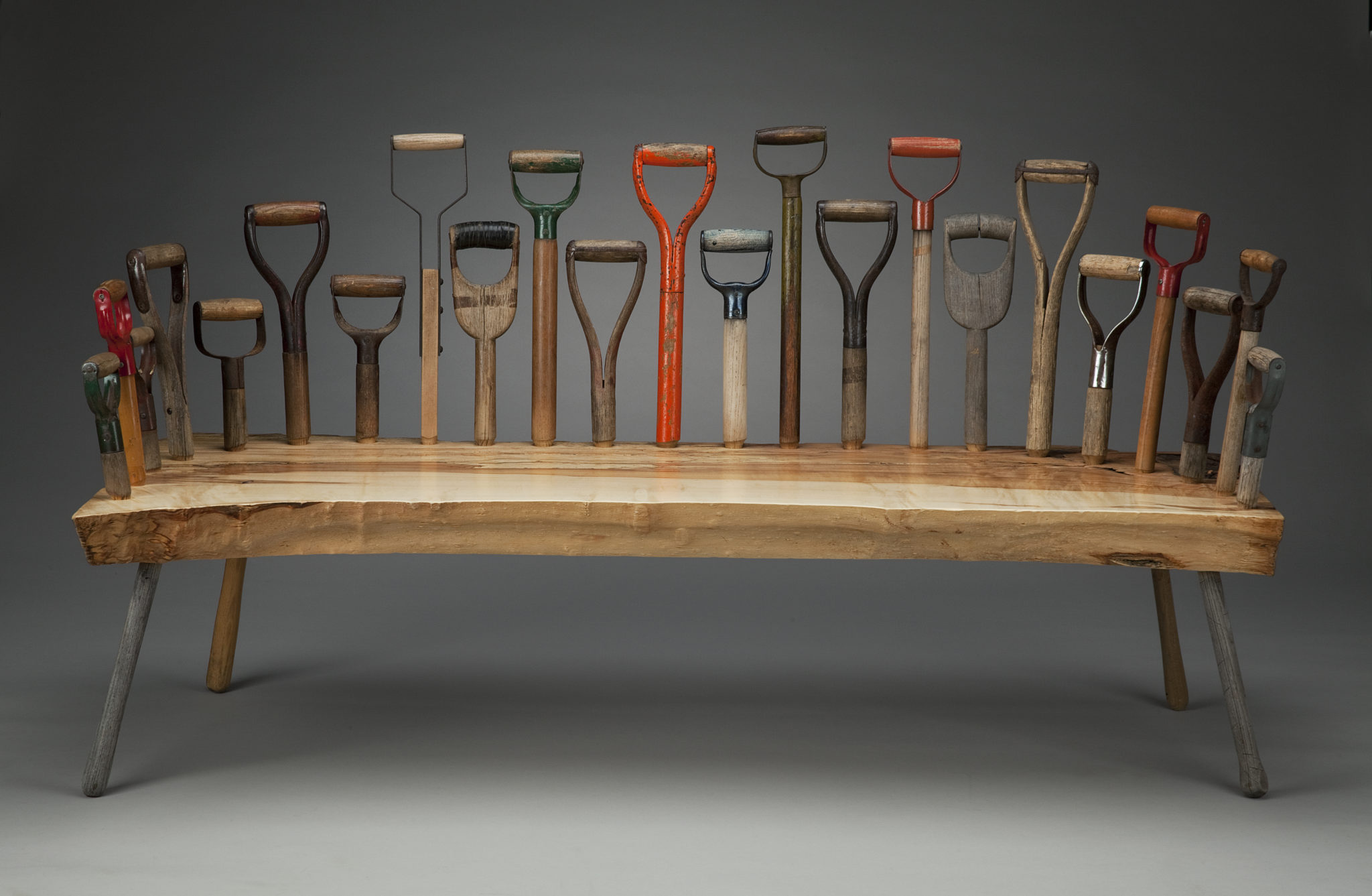 Dig 23, 2015. Spalted maple and shovel handles. Photo: Bill Lemke
The exhibition presents imaginative furniture and works on paper by Wisconsin-based maker and designer Tom Loeser. This playful show encourages viewers to shake up their habits and interact with the environment and one another, while considering issues such as body posture and etiquette that are often taken for granted. Loeser's work also raises a clever question: "If the furniture we sit on every day were totally different, would our lives be different, too?"
Guest curated by Glenn Adamson, Please Please Please reimagines what furniture can be by juxtaposing the artist's furniture with his series of pyrographs and cyanotype prints. "In making this exhibition," says Adamson, "we have been inspired by Loeser's way of turning furniture upside-down and inside-out. This is partly about understanding the medium's full potential, and partly about sheer enjoyment. It's a show that children and adults alike will love."
Loeser's exploration of unconventional furniture forms began in the early 1980s with Folding Chairs, his series of colorful, postmodern chairs that double as wall-hung art. With this body of work, the artist intended to highlight the distinction between functional and formal considerations. Thirty years later, Loeser is still investigating the balance between form and function, with furniture made by joining antique tools—including parts of scythes, shovels, and pitchforks—with natural timber slabs. This "tool handle" series speaks to the union of tool and material that underlies all forms of craftsmanship, while referencing past studio furniture masters like George Nakashima and J.B. Blunk.
The artist's recent series, New York/Chicago/LA, features three tumblers that have been beautifully carved, painted, and upholstered with felt or dyed leather. Made in collaboration with Paris-trained upholsterer, Matthew Nafranowicz, of The Straight Thread in Madison, Wisconsin, the tumblers' soft felt surfaces and reinforced corners allow every side to be rolled around and sat upon. The name of the series references the city skyline of the three largest American cities, recognizing the tumblers' variations in height when arranged at will.
Loeser's playful experimentation in reference to furniture can also be found in his works on paper. By using a selection of chair-shaped metal brands to "burn" images into paper, he created a series of pyrographs. These pieces place emphasis on the physical gesture of embossing and scorching, while his series of cyanotype prints contain ghost-like silhouettes of his small, handmade furniture forms.
As presented together in the exhibition, Loeser's inventive furniture and works on paper form an engaging show that appeals to all ages on multiple levels. The exhibition is accompanied by an illustrated publication with essays by Glenn Adamson and Stephen Knott, author of Amateur Craft and Theory.
Tom Loeser: Please Please Please was co-presented by Houston Center for Contemporary Craft and the Museum of Craft and Design and curated by Glenn Adamson. The presentation at the Center for Art in Wood is made possible with support from a grant from The Furniture Society through its EFASO program.
The exhibition program at the Center is generously supported by members of the Cambium Giving Society of the Center for Art in Wood, the Bresler Foundation, Pennsylvania Council on the Arts, William Penn Foundation, and Windgate Foundation. Corporate support is provided by Boomerang, Inc. and Sun-Lite Corporation.
EXHIBITION EVENTS
Please, Please, Please, Philadelphia | Wed. July 14, 2021 | 6:30 pm EDT | LIVE on ZOOM
Join us for Please, Please, Please, Philadelphia, a discussion about seating in the city featuring furniture designer-maker John Lutz, restoration expert and connoisseur of Early-American Furniture Chris Storb, and Emily Zilber, Director of Curatorial Affairs and Strategic Partnerships at the Wharton Esherick Museum. We'll hear about the history and tie local made furniture to our current exhibition Tom Loeser: Please, Please, Please.
John Lutz is a woodworker, furniture designer, manager and educator. His work is highly influenced by the relationship between craftsperson and material through the process of producing the final product. Lutz' career began with working in the industry for high end furniture, while also teaching at the Rochester Institute of Technology and Penland School of Crafts. He received his BFA in Woodworking and Furniture Design in 1984 from Rochester Institute of Technology.  He soon after began working for Thos. Moser Cabinetmakers in Maine, where he spent over 18 years working with the company. John has been awarded design patents and Innovation design awards. He has lead several AIA lectures, taught certified courses to interior designers. Since 2008 John has been General Manager of George Nakashima Woodworkers, and continues to create his own works while focusing on the process of making traditional forms. In addition to his work John supports the wood community as Board Member for the Center for Art in Wood in Philadelphia.
Christopher Storb has worked as furniture conservator for over 40 years. Most recently he worked at the Philadelphia Museum of Art from 2003 to 2019. His expertise is in the history of woodworking techniques, processes, and materials, coupled with the ability to share that expertise in a meaningful way with students and the general public. He has lectured and written widely on historic furniture and maintains the blog "In Proportion to the Trouble" where he examines all things regarding the arts and mysteries of woodcraft.
Emily Zilber is the Director of Curatorial Affairs and Strategic Partnerships at the Wharton Esherick Museum. She maintains an independent curatorial and consulting practice and is currently Guest Curator at the Renwick Gallery, Smithsonian American Art Museum for the 2021 Renwick Invitational. She is adjunct faculty at Tyler School of Art and Architecture and speaks regularly on topics related to craft, design, and museum practice. Zilber was the first Wornick Curator of Contemporary Decorative Arts at the Museum of Fine Arts, Boston and has also held positions as Assistant Curator at Cranbrook Academy of Art and Art Museum and Editor of Metalsmith and Metalsmith Tech. Zilber serves on the boards of trustees of the Center for Craft in Asheville, NC and CraftNOW Philadelphia, and is on the Collections Committee of the Center for Art in Wood.
This event is free to the public. The Center for Art in Wood interprets, nurtures, and champions creative engagement and expansion of art, craft, and design in wood to enhance the public's understanding and appreciation of it. A suggested donation of $5 per person enables us to provide programs and exhibitions throughout the year.