Spoons to Stir the Soul: THE WORLD OF NORM SARTORIUS
MAY 6, 2022 — JULY 24, 2022
GUEST CURATOR: CRAIG EDELBROCK
Spoons to Stir the Soul is the first career retrospective exhibition celebrating the life and work of extraordinary wood carver Norm Sartorius. In a career spanning more than 40 years, he has literally carved a niche for himself, opening new doors for creative possibilities in the material of wood. He started his career making a wide range of functional wooden objects, but after a few years, he focused on the potential of the spoon as an object of art.
As Sartorius has often said, "People look at me rather oddly when I tell them I make non-functional wooden spoons—non-functional
in that you wouldn't use them in the kitchen, but functional in that they are objects of beauty. My spoons are sculptures; my sculptures are spoons. Not spoons to stir the soup but spoons to stir the soul."
The exhibition will include many of Sartorius's finest works, selected from some of the premier private and public collections in the United States. It will trace the dynamic evolution of the artist's creative expressions, from his earliest efforts as a professional woodworker in the 1970s, to his commitment to the spoon as a fine-art category in the 1980s and '90s, and culminating with his current mature vision, aesthetic refinement, and woodworking mastery—all of which have produced a unique and deeply soul-stirring oeuvre of art-in-wood.
In addition to Sartorius's spoons, Spoons to Stir the Soul will include outstanding examples demonstrating the breadth of his artistic repertoire, including larger sculptures. This selection is presented alongside the artist's influences, stories, and relationships that have intertwined with his unique path.
Norm Sartorius (b. 1947) has built a unique career sculpting wooden spoons that, as he says, "stir the soul, not the soup." Leaving a job in psychiatric social work, he embarked as a young man on a quest to find something tangible to make with his hands. With no background, he apprenticed with versatile crafters Phil and Sandye Jurus in Baltimore. He learned about tools and techniques in wood and metal. Leaving the city, he became a hippie homesteader in the mountains of West Virginia living on 25 acres on a remote mountaintop for five years. He sold functional woodenware of various kinds at local craft fairs, but it was his spoons that caught people's attention. They had an artistic flair that hinted at ta deep artistic well of ideas and forms expressed as spoonish sculptures. Norm, too has said that spoons held a special attraction for him from the start.
Now 30 years on, Norm has "stayed in his seat," exploring the common wooded spoon as a context for sculpture. Using woods of exceptional beauty, he shapes each spoon to stand as a unique artistic statement of color, form, and texture. Advancing the art of the spoon to a very high level, each work is inspired by the wood itself, and draws on his deep repository of creative ideas and ancient spoon making traditions worldwide.
Spoons to Stir the Soul: The World of Norm Sartorius-book available now
Spoons to Stir the Soul: The World of Norm Sartorius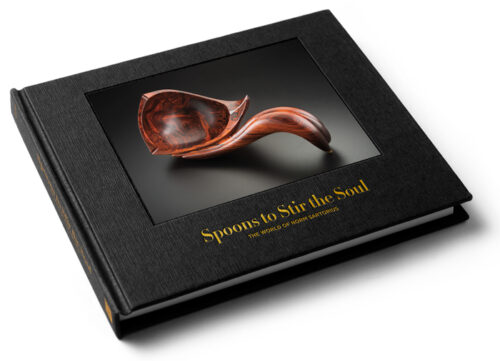 We are thrilled to announce that a book on the life of extraordinary artist-in-wood Norm Sartorius has been published. This publication will feature more than 200 stunning images of Norm's finest creations by photographer Jim Osborn. It includes an illustrated biography of Norm by Craig Edelbrock along with essays by Suzanne Ramljak (art historian and curator) and Kevin Wallace (author and museum director). This publication coincides with a major career retrospective of Norm's work at the Center. Opening night is scheduled for May 6th.
Click HERE to order your copy today.