Moving Image Matters: Documenting and Performing Craft in Video
Exhibition Curator:  Jennifer-Navva Milliken, Artistic Director, The Center for Art in Wood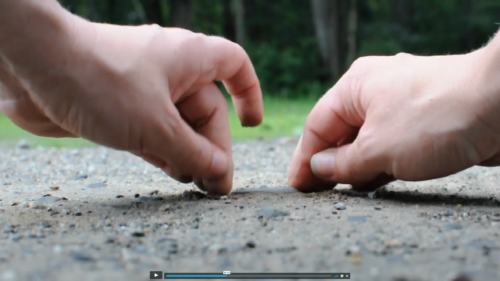 The exhibition examines the use of video as a medium of expression and interpretation by craft makers for whom material is the anchor of their studio work. With easier access to equipment and channels of distribution facilitated by the Internet, social media platforms, and web-based video-sharing sites, makers turn increasingly to video as a medium for aestheticizing processes, exploring ideas surrounding labor, examining the properties and behaviors of materials, or acting out the gestures that facilitate making. The video works in Moving Image Matters, made by artists from around the world, represent modes of thinking and approaches shared by makers of all materials and disciplines. They challenge the assumption that craft is strictly an object-based discipline and assert that making is as much about ideas as it is about objects.
Artists: Hayami Arakawa, US; Jesse Beecher and Jack Mauch, US; Roi Carmeli, b. Israel, active Scotland; Anat Golan, Israel; Phil Gray, Ts'msyen and Mikisew Cree; Ayumi Horie, US; Etsuko Ichikawa, b. Japan, active US; Gina Siepel, US; Barb Smith, US; Coby Unger, US
Image caption: Barb Smith, US, Dig, 2012, still image from video, 2:27 mins.
The exhibition program at the Center for Art in Wood is generously supported by members of the Center's Cambium Giving Society, the Bresler Family Foundation. Pennsylvania Council on the Arts, Philadelphia Cultural Fund, William Penn Foundation, and Windgate Foundation. Corporate support is provided by Boomerang, Inc., Penn State Industries, Signarama Center City, and Sun-Lite Corporation.